Since 2010, concept cars without exterior rear-view mirrors have appeared one after another at car dealerships. It is not entirely correct to say that there is no outside rearview mirror, but an external camera is used instead, although all manufacturers know that replacing outside rearview mirrors will be a trend. But no one is sure when.
Peugeot Onyx Concept
At Paris Motor Show, Peugeot unveiled Onyx concept car. This is a car with cameras instead of side mirrors. Its principle is very similar to Lexus ES.
There are several advantages to using side cameras instead of side mirrors. First, it helps reduce vehicle's air resistance and improve efficiency. Secondly, use a high-quality wide-angle camera to reduce driver's blind spots and see a clearer image. Sees clearly even in dark.
Of course, its disadvantages are also obvious. Firstly, cost is very high. As soon as camera is used instead of a rear-view mirror, price of car will increase significantly. Secondly, if outside rearview mirror is covered with rain and mud, it will also affect use. Thirdly, maintenance cost of electronic component is also very high.
Lexus EU
The Lexus ES model, launched in Japan, is known for being first manufacturer in world to replace outside rear-view mirror with a lens. His approach is to use car's A-pillar display to show scene behind.
The previously released Audi eTron also features a similar design to ES, except that Audi has integrated a screen into interior of door panel. The design is simpler than new ES, but features are basically same.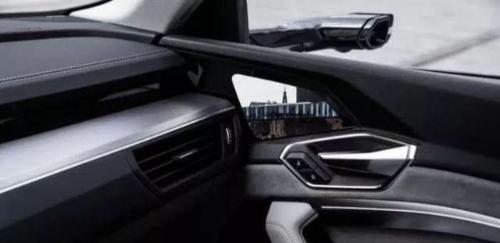 Audi e-tron
Audi rarely integrates a side image into door panel. Audi may be first brand to use this method.
But in any case, fact that side mirrors have been replaced by cameras is alarming. Because in event of an electronic camera failure, driver will not be able to see scene from behind, so using mirrors is still safest, most efficient and cheapest method.
Honda
In fact, similar to Lexus and Audi approach, other manufacturers also tried it very early. For example, Honda launched Reinwatch system in 2012. Rather than do away with side mirrors entirely, this technology adds a camera to side mirrors to reduce driver's blind spot. After turning on turn signals, center display will show scene from behind.
However, this system has a small flaw that cannot be avoided. That is, when driver turns right, he looks at central control screen, looking into right rearview mirror, there is no problem. But when turning left it is very inconvenient. The driver turns left and looks in rearview mirror on left, but central control screen is on right. At this time, driver is easily distracted.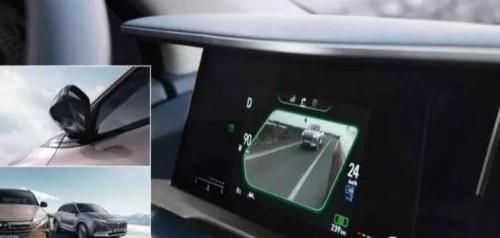 Modern
This is rear side control system used in Hyundai NexSo and K9 this year. Like Accord, it adds a camera for side mirrors, but unlike Accord, instead of a center console screen, display is on dash. Although image displayed on dashboard is not as big, it will make driver's view comfortable.
Kia
Kia also uses a rear view system on its K9 D-Class. The design of K9 is even more user-friendly: for example, when driver turns on left turn signal, speedometer on left side of central control screen will display background. When right turn signal is on, tachometer on right side of central control screen shows scene behind.
More often, this Hyundai and Kia design is not a replacement for rear-view mirrors, but an upgraded blind spot warning system. It's just that blind spot warning system itself is so powerful that it can replace the side mirrors.
Volvo XC40 Concept
While many concept car designers always want to remove rear view mirror, rear view mirror is often returned during mass production phase. For example, Volvo XC40 concept car did not have a rear-view mirror at concept car stage. But in final serial production, given cost, it returned to traditional rear-view mirror.
In fact, Tesla Model S also implements similar technology, allowing car to check for nearby vehicles when turn signal is on, and change lanes when it's safe to do so. Tesla, which has a 17-inch screen, can't waste its big screen.
Browse:
Ultimately, it may only be a matter of time before replacing outside rearview mirror with a camera, and current technology is relatively mature. There are only two problems to be solved. Reliability is one thing, price is another. As long as cost can be reduced and reliability guaranteed, an outside rear view mirror is really not needed.