This kind of trouble can arise for car owners who, for some reason, left car, and their car is scratched. Let me tell you how to avoid accidents caused by internal difference of car wheels.
The difference between inner wheels - when driving, pay attention to rear wheel
Crashes caused by internal wheel difference are one of reasons novice drivers get scratched. The so-called internal wheel difference refers to phenomenon that rear wheels are closer to center of rotation than front wheels when vehicle turns while moving forward. The greater steering angle, longer body and greater difference between inner wheels.
You might think that while front end rounds corner, rear naturally follows suit. But due to fact that rear wheel is closer to turn, it is easy to scratch it in an accident. Therefore, when turning while moving forward, you should consider not only front wheels, but also ability to bypass rear ones.
To avoid accidents with internal differential, you need to stay more than 1 m away from turn and turn steering wheel when half of car's body goes through turn. Many beginners have damaged their cars due to premature steering while cornering.
How to avoid scratches caused by internal wheel difference
I'm afraid that in future, everyone will inevitably encounter internal wheel differential failures. The biggest problem is how to adjust steering wheel to avoid big damage when side of car body rubs against an obstacle due to internal difference of wheels? The novice then had next encounter because he had not mastered method.
This is a T-junction and entrance to parking lot is in a narrow lane. As newcomer turned right into parking lot, he rubbed himself lightly against side of car and right pillar. Subsequently, car moved back and forth, and side of body was constantly scratched due to difference between inner wheels. After such a struggle for some time, queue of cars waiting behind became longer and longer, and drivers of cars began to honk impatiently. The novice was embarrassed to block road like this again, so he just overtook car. As a result, a new car, just bought, in this form was completely unrecognizable. This accident was caused by scratches caused by not knowing how to avoid internal wheel difference.
What would you do if you were a beginner?
①Turn steering wheel to right and move forward.
②Turn steering wheel all way to left and drive forward.
③Turn steering wheel to left to reverse.
④Turn steering wheel to right to reverse.
In this case, a small mistake can lead to expansion of scratches on case. Make wrong choice and your machine could be damaged. Let's look at implications of each option.

①,②,③ are wrong answers. If you select these three items, your vehicle will experience consequences shown in diagram above.
The correct answer is "④ turn steering wheel to right to reverse." When we go wrong way, best way is to go back to starting point and start again. For same reason, you must reverse car when steering wheel is turned to right, or turn steering wheel to right to turn car around. Conversely, if this problem occurs when turning left, turn steering wheel all way to left, and then reverse vehicle. This is only way to ensure that vehicle does not suffer major damage, other than initial scratch. Try in following order.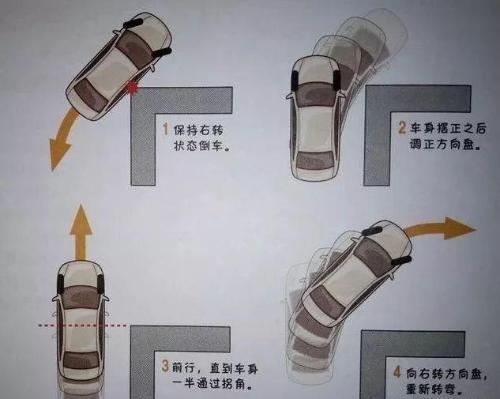 Have you learned how to prevent scratches on inner wheel of a car? Hurry up and go through it again. I wish everyone good luck in driving and become a driving master as soon as possible.