Fuzzy headlights plague thousands of car owners around world. You can use a headlight repair kit or tools that you can buy at an auto parts store to fix your headlights, which can save you a lot of money on headlight replacement while making it easy and affordable. The big advantage of this method is that anyone can repair headlights without special training and special tools. If you can find this non-corrosive "headlight deoxidizer", it can be done in a minute.

Method 1. Use glass water
1. Determine if problem is inside or outside car headlight glass. If it is inside, you will see moisture and you will need to remove headlight to dry it. (Before proceeding with methods below, try Headlight Deoxidizer, which saves you time and does not cause corrosion.) Depending on how damaged or oxidized headlight glass is, decide which steps to skip. The worse condition of headlight, longer it will take to clean it. If condition of headlight is too bad, it will have to be replaced.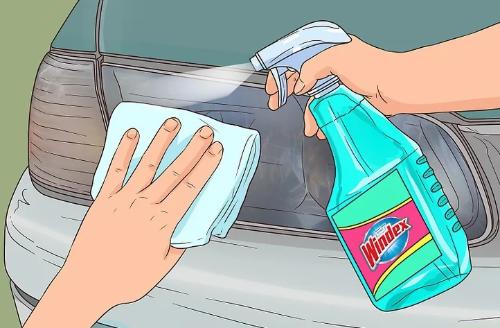 2. If outer glass of car's headlight is dirty, clean it with glass water or a degreaser.
3. Then spray some scratch polish, abrasive in this spray is what you need.
4. Follow directions on the polish bottle and avoid direct sunlight. Do not spray on black plastic parts as it will leave a white film that is difficult to remove.
5. Use car polish to clean your headlights faster and better. Applying a layer of wax can keep your headlights looking bright and new for a long time.
Second method: use masking tape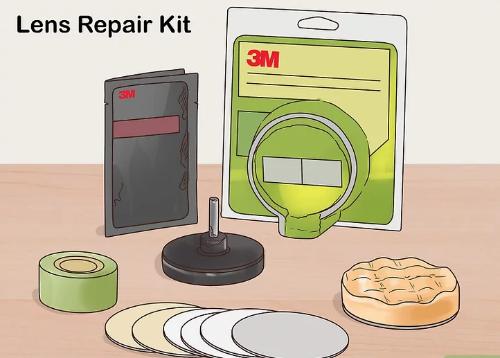 1. Use 3M Automotive Headlight Lens Repair Kit to make your job easier. It comes with tape, sandpaper, polish and instructions, and video demos can be found online.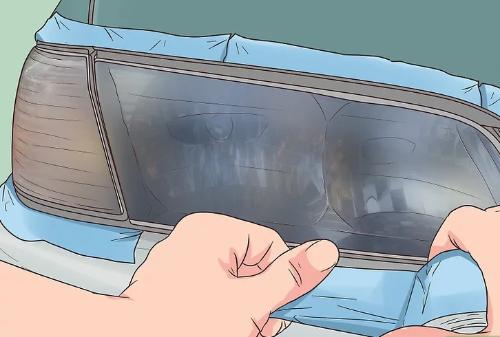 2. Cover area around headlights. Protect painted surface with masking tape, not tape. The tape will take paint off.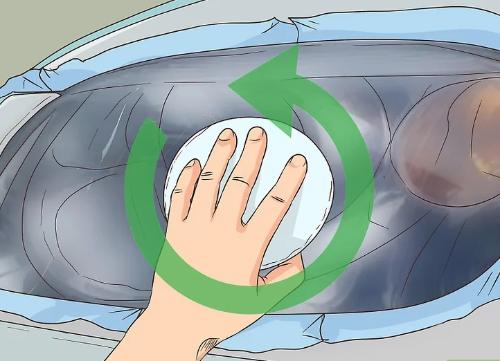 3. Clean headlight glass.
Use sandpaper. Keep in mind that after sanding, further steps will be required to remove scratches left by sandpaper. First dampen sandpaper with soapy water.
Spray cleaner or soap and water (or degreaser) onto the light glass. Then wipe with a clean towel or cloth.
4. Remove oxide layer.
Apply lens polish or other lens cleaning solution with your finger. Spread evenly over headlight glass while still damp.
Take out your sanding sponge or soft sponge and take sandpaper you just selected. In most cases, number 600 is usually used.
Fold sandpaper in thirds and place it on top sanding sponge or soft pad.
Apply some soapy water to sandpaper and sponge.
Move from side to side, sanding evenly and vigorously, occasionally wetting sponge and sandpaper with soapy water. (Be careful not to touch paint when sanding.)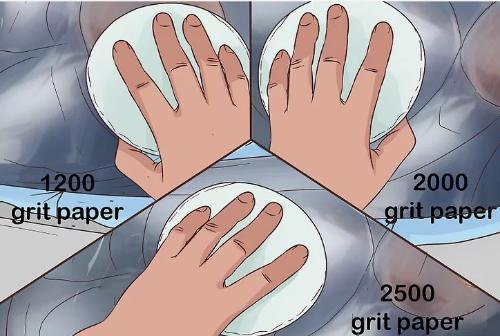 5. Sand surface of car light glass while keeping surface wet.
Sand with 1200 grit sandpaper, then continue with finer 2000 grit sandpaper and finish with 2500 grit sandpaper. Until scratches left by just sanding are removed.
After sanding with 2500 grit sandpaper, spray polish onto top of headlights and wipe with a car towel.
Clean headlights with soapy water or car cleaner. This is necessary to remove remaining varnish.
6. Apply wax to headlight glass.
Please note that this is just a preview of cleaned headlights. If you are still not satisfied, you can repeat steps 1 to 5 above until glass is clear.
To seal, apply a layer of wax or silicone sealant to sides of headlight glass.
Fold car towel in four and apply wax or polish to it. Wait a few seconds for towel to fully soak.
Use a towel to apply wax layer by layer from left to right until wax is covered by headlight glass.
7. Check cleanliness of lighting. After headlights are restored, they will shine like new and you will be safer to drive at night.
Method 3. Use toothpaste
1. Wearing rubber gloves, try using different types of toothpaste, including gel ones. The best whitening toothpaste is silicone based.
2. Wash off sand and dust from the headlight glass.
3. Do not apply cleaner or polish to painted surfaces or plastics. Protect painted surfaces with masking tape and plastic sheeting.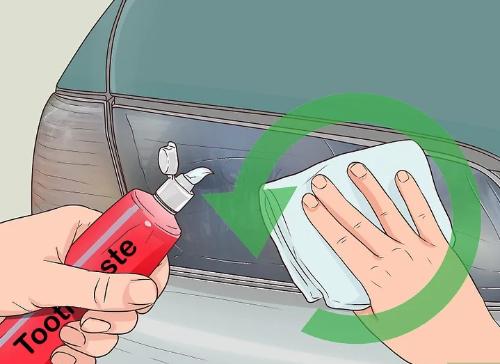 4. Apply some toothpaste to a car cloth or soft cloth and wipe glass of the car light in a circular motion, paying special attention to any smudged or scratched areas.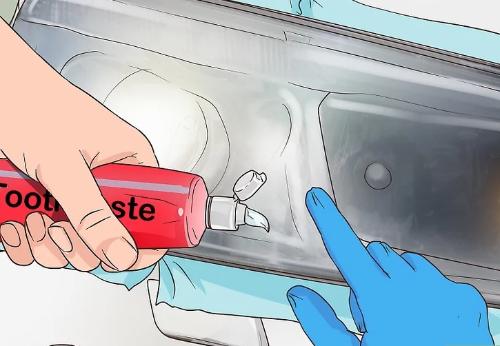 5. Add some toothpaste and then rub it hard, you will find that headlight glass has become more transparent.
6. When glass becomes more transparent, add more water and toothpaste. Each lamp should be wiped for 3 to 5 minutes.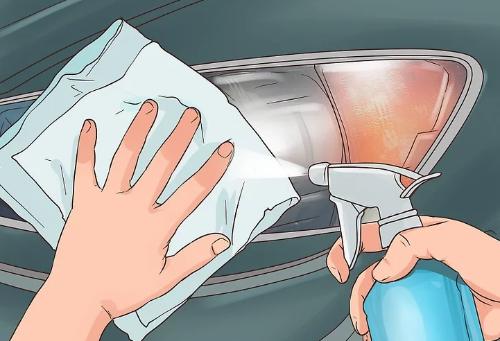 7. After nearly wiping, rinse it with clean water several times and then dry it with a paper towel or soft cloth.
8. To seal, apply a coat of wax or silicone sealant to edge of headlight glass. Used items:
Toothpaste
Car towel or soft cloth
clean water
Rubber or plastic gloves.
Automotive wax or silicone sealant
Tips
Soak sandpaper in soapy water for 5 minutes.
Open hood to wipe all light windows.
Repair headlights in a shady area. Do not fix in sun.
Sanding with fine sandpaper at beginning is to remove discolored layer, and then sanding with coarse sandpaper is to remove scratches left by previous sanding. (Remember order: 600=>1200=>2000=>2500).
If headlights only turn yellow instead of scratching, use naphthalene and sand them down. You can use 2500 grit sandpaper, but if yellowing is severe, start with 400 grit sandpaper. In most cases, more discolored headlights are, coarser sandpaper should be. The higher sandpaper model number, finer sandpaper: 600 (largest) => 1200 => 2000 => 2500 (finest).
Before sanding, wipe lamp to remove insects, oil, and other contaminants.
Take another sandpaper, in this case it should be 1200. Sand in same way, then with 2000 grit sandpaper and finally with 2500 grit sandpaper.
Put on protective gear: gloves, goggles, old clothes, etc.
Sanding removes contaminants you are trying to remove, continue sanding until surface is smooth and free of contaminants.
Keep water on surface of sandpaper while sanding. The key to wet sanding is water.
Look for headlights for moisture and cracks. If there is moisture inside luminaire, it means that water vapor has entered luminaire during assembly process. Nowadays, even cleaning headlight from outside can only play a small role in improving appearance of lamp and increasing brightness of lamp. You may need to clean, dry and seal plastic lens inside headlight to prevent moisture from getting inside headlight again. You can drill small holes in bottom of headlights, but don't drill holes in glass headlights or closed beam headlights. Drain, dry and seal with rubber stoppers or silicone sealant.
All automotive solutions must be harmless to automotive paint, but must be wiped down after use. When these solutions dry, they can damage paint!
You need to prepare
Clean rag or towel
A bucket of soapy water
Water (optional)
Rubber gloves (skin protection)
Masking tape
Plastic lens cleaner or soapy water
Polishing compound or other compound (preferably for plastic lenses)
At least 4 sets of sandpaper (models 600, 1200, 2000, 2500), type of sandpaper depends on degree of oxidation of headlights (some require only 2500 or 2000 sandpaper, check if it is dry sandpaper or water sandpaper)
Sponge or soft pad for hands (so that water does not get on sandpaper)
Premium car cleaning cloth
Automotive wax or similar
These items can be purchased separately, or you can purchase a 3M auto headlight lens repair kit, which contains some of tools listed above, but there are no more common electric drill-polishers with polishing discs, fibrous cloth and a watering can. possible with water. Here are complete repair methods: [1] If none of above methods work, you can search for "headlight deoxidizer".