First of all, let me explain one thing: all cars have a differential, otherwise car can't turn, it can only go straight. Before advent of differential, all power of car was transmitted to one wheel.
Because when car turns, outer wheel makes a big arc and inner wheel makes a small one. If left and right drive wheels are rigidly connected directly through shaft, then speeds of wheels on both sides will inevitably be same, and wheels on both sides will interfere with cornering.
A differential is a device used to keep speed of left and right or front and rear wheels variable. Depending on installation position, differential located on front and rear drive axles can be called front differential and rear differential, respectively; differential mounted on middle drive shaft of a four-wheel drive vehicle is designed to adjust speed of front wheel. and rear wheels is called a center differential device.
According to structure, it can be divided into open differential, multi-plate limited slip differential, Torsen differential, viscous differential and mechanical locking differential.
The circuit diagram of this Land Rover Range Rover shows that three differentials are used in one vehicle: an open differential on front axle, a limited slip differential with a multi-plate clutch on rear axle, and a Torsen differential in center Differential: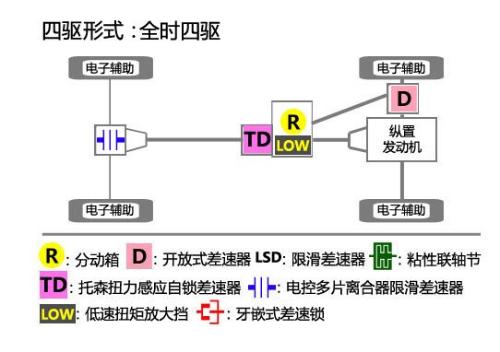 What is difference between these types of differentials?

1. Open differential

An open differential allows left and right wheels to spin at different speeds when cornering.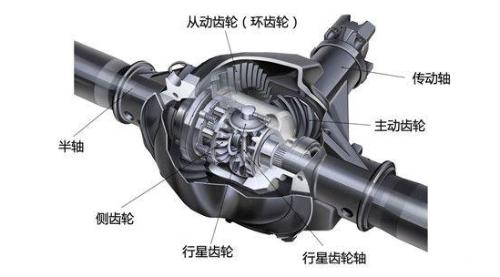 I don't know if you've noticed, but when car is raised, if you turn one wheel, other wheel will turn in opposite direction, which is what differential does. The figure below shows mode of operation of differential with and without power:
But since open differential planetary gear does not have a locking device, in event of one wheel spinning, most of power output will be applied to slipping wheel, which is not conducive to vehicle recovery.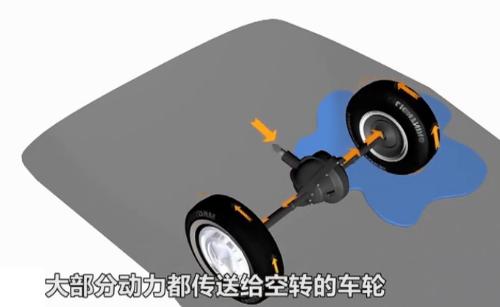 2. Limited slip differential with multi-plate clutch
To solve problem of differential opening, use of a limited slip differential with a multi-plate clutch was proposed. It is equipped with a clutch that consists of several friction discs and steel plates. The friction plate is clamped by rotating shaft, and steel plate is clamped by shaft body. Under normal circumstances, friction plate and steel plate have little to no effect on each other. When one side slips, due to pressure transfer by bevel planetary wheel, friction and steel plates on non-slip side compress and rotate together so that wheels on non-slip side get more power and help car get out of trouble.
The increasingly common multi-plate clutch differential now controls degree of engagement of friction discs via electro-hydraulic or electromagnetic control and interacts with sensors to assess vehicle's driving condition, which can actively distribute torque and improve handling and performance at expense of performance.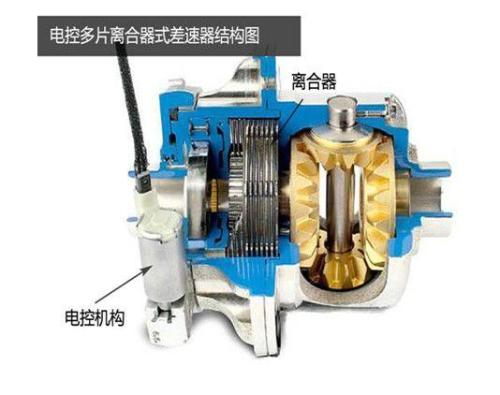 Of course, a self-locking differential of a multi-plate type also has disadvantages: steering performance deteriorates, and service life of friction discs is limited. Its scope is paved roads and light off-road, as a rule, for cars with rear-wheel drive. FWD vehicles are generally not fitted as original FWD vehicles have an understeer defect. Installing this differential will interfere with steering. The higher limited slip ratio, more difficult it is to turn.

3. Torsen differential (limited slip differential with torque sensor)

Torsen differential (Torsen) full name is Torque-sensing Traction, core of Torsen differential is worm gear, worm gear meshing system. Since Torsen differential has advantage of quick response, it is used in center differential and cross differential in many vehicles. So far, it has gone through A, B, C and three generations of development.
The basic principle is to use one-way worm gear transmission (motion can only be transmitted from worm to worm gear, otherwise self-locking occurs), which can adjust front and rear torque distribution in a more timely and reliable way than center differential system with electronic hydraulic control.
To put it simply, Torsen differential is a fully automatic purely mechanical differential, that is, a limited slip differential that does not require human control + 100% reliable + direct transmission. well balanced design.
Since Torsen A differential is not suitable for an automatic transmission, Torsen B differential was designed to solve this problem: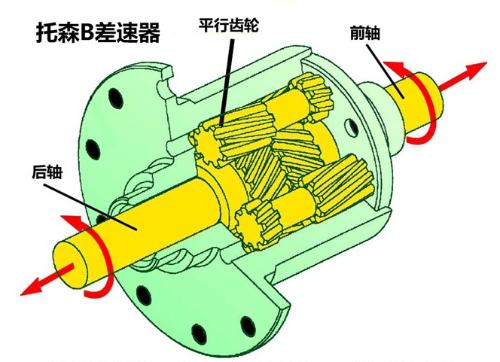 The Torsen C differential has been updated based on Type B differential after several iterations. The automatic lock response time is faster. Under normal conditions, driving force is distributed in a ratio of 40:60 between front and rear. In extreme cases, it can transfer up to 65% of traction to front axle or 85% to rear axle.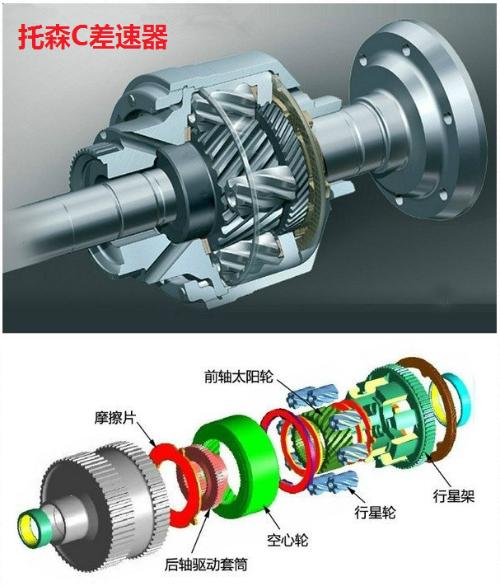 4. Viscous differential

The biggest feature of viscous coupling is that it can automatically distribute power to rear drive axle as needed without driver intervention. It is usually installed on all-wheel drive vehicles based on front-wheel drive, and usually drives on front-wheel drive.
The principle of operation of a viscous coupling is somewhat similar to a multi-plate clutch. The input shaft has a plurality of inner plates inserted among plurality of outer plates into output shaft housing and filled with high viscosity silicone oil. When input-driven slippage occurs, silicone oil inside viscous clutch will mix and heat up to expand, causing clutch disc to compress, thereby realizing an almost rigid state of connection between two transmission shafts, and power can release.
However, limited by design, this portion of power will not exceed 30% of engine output. In addition, this kind of differential makes hysteresis of all-wheel drive system more obvious, so it is positioned only for driving on bad roads in simple conditions, and high-strength flotation on unpaved highways is clearly not its "chip". .

6. Mechanical differential lock

This type of differential can also be fully locked and unlocked without manual control by driver. It also has advantages of simple construction, no need for gear oil containing special additives, and low maintenance costs. A typical representative is Eaton mechanical differential lock.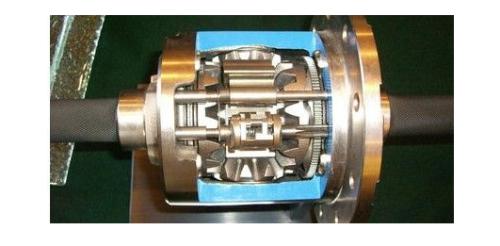 Mechanical differential lock is a further improvement of self-locking differential. When one wheel slips, mechanical lock mechanism is activated to completely lock axle, and 100% of engine torque is transferred to clutch. Efficient wheels, thus providing enough traction to help car get out of troubles.

-------------------------------- ---------

Blocking differential

Not all is well with differential. The differential allows speed differences between inner and outer wheels or front and rear wheels, which is both an advantage and a disadvantage. The differential is combined with a differential lock, which is a match made in heaven.

The differential lock can rigidly connect two axle shafts into a single unit so that wheels on both sides can receive same power so that car can stay out of trouble.

1. Manual mechanical differential lock

Currently, a manual mechanical differential lock is more common. The technology is simple, production cost is low, reliability is high, and it can realize complete mechanical combination between shafts. Of course, if lock function is still used during normal paved road driving, it will cause serious damage to axle shafts, tires and other vehicle components.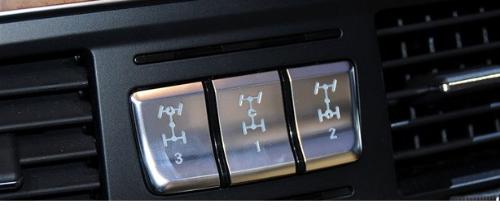 The figure shows front differential lock, center differential lock and rear differential lock control buttons.

2. Electronic differential lock

The reason this concept is mentioned is because many people are easily confused. This electronic differential lock is only an extended function of ABS/ESP system.
The principle is also simple: when turning, center of gravity shifts outward, and inner wheel slips easily. At this time, braking inside wheel can improve handling. Nowadays, many urban SUVs are starting to use "braking" to distribute torque between wheels, helping vehicles improve ride quality and flotation.