It is very comfortable to sit on car leather seats. Such a good leather seat requires proper care from car owner. Let me tell you how to take care of leather car seats.
In order to understand how to care for leather seats, you must first learn about uniqueness of leather used in car. Most of car seats are made of fine and soft yellow cowhide leather, which has good elasticity and color, and whole large-scale upper layer leather is mainly used, because second layer leather is not pleasant to touch, which is very different from the second layer leather. raw material for furniture, leather clothes and leather shoes. big difference.
There are also buffalo leather seats, leather is thicker and harder, and quality is lower, so you need to pay more attention to care. Leather seats are in contact with human body every day, biggest drawback is that they are easily stained with grease, sweat, dust, etc., and are not scratch-resistant with sharp objects. If maintenance is not done after prolonged use and exposure to sunlight, leather will easily harden or crack, so owner must use it carefully and take good care of it.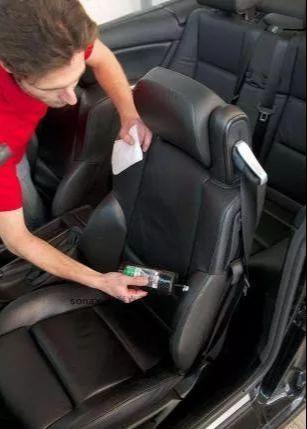 There are two ways to care for leather seats.
Firstly, when buying a new car, first apply a coat of polish to leather seats of new car to add a layer of protection. The owner can do this at a car dealership or do it yourself. Clean seat at usual time, just use your regular stain remover.
The second is regular maintenance. Wipe it once a month with a professional leather cleaner to maintain and decontaminate. A professional gentle leather cleanser that has a mild disinfecting effect and does not damage skin, currently sold mainly in car dealerships. After each cleaning, do not dry with a hair dryer, you can gently dry with a soft cloth or dry naturally.
Due to its soft texture, leather seats should be stored away from heat sources (such as cigarette butts) and strong sunlight, so film (UV and IR protection), curtains and seat cushions should be added to vehicle. . Try to choose a cool place when parking at normal times and avoid prolonged exposure to sun to prevent leather from fading and drying out.
How to handle leather seats after rain
If leather seat in car accidentally got wet in rain, it should not be exposed to sun or dried with a hair dryer. This can easily damage skin. You can dry it with a paper towel or soft towel. or let it dry naturally Let it dry then apply another coat of polish. In addition, it is usually necessary to develop habit of regular maintenance of leather seats, which will not only keep leather seats clean, but also significantly extend life of leather seats.